Top 10 Buzzer-Beaters In Sacramento Kings History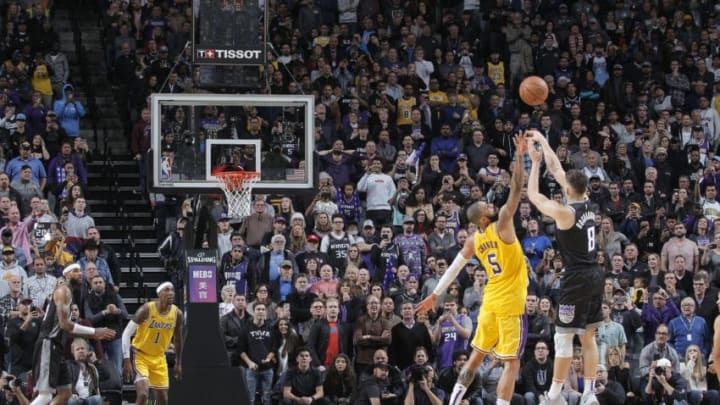 Sacramento Kings Bogdan Bogdanovic (Photo by Rocky Widner/NBAE via Getty Images) /
There have been plenty of exciting buzzer-beaters in the history of the Sacramento Kings. Today, we take a look at and rank the ten best.
Need some excitement? Us too. The sports world is at a dead halt, and fans are looking for any way to scratch that itch for some competition and excitement. While leagues try to feed us competition in the forms of iRacing and NBA 2K tournaments, we can cover some of the excitement by taking a stroll or two down memory lane. We did so for the Sacramento Kings in this slideshow.
We wanted to know which buzzer beaters were the best ones in Kings' history, but we have to go over one ground rule first. Often times, the phrases "buzzer-beater" and "game-winner" are mistakenly interchanged, and we want to clear up exactly what we were going for when compiling this list.
There have been many game-winners in the history of the Kings. Some stick out more than others. There was the De'Aaron Fox put-back dunk in Miami, and Mike Bibby's dagger in the playoffs long ago. But in those instances, there was time left on the clock after the shot went in (3.3 and 8.2 seconds, respectively.) For our list, we wanted buzzer-beaters in every sense of the word: a shot that is released with time on the clock, and the buzzer sounds as the ball is in flight. Oh, and the ball has to go in.
There were a few shots that we had to omit, either because we couldn't find useable footage or any footage at all Just know that Reggie Theus had multiple buzzer-beaters in 1988, and Travis Mays won a game at the horn in 1991.
What do you think is the best buzzer-beater in Sacramento Kings history? Do you agree or disagree with any of our rankings? Let us know what you think in the comment section below.