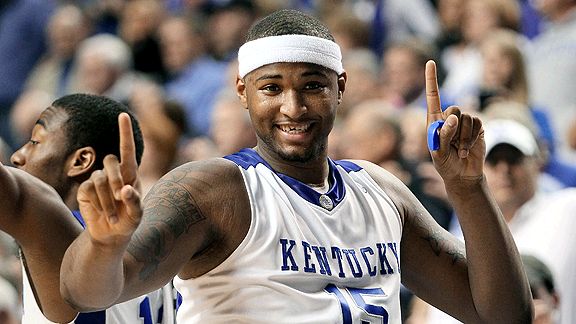 The workout was closed to media types, which I only pretend to be on weekends, thus, I was not able to attend the hoo-rah. However, those with fancy insider ties such as Yahoo's Adrian Wojnarowski were able to get a bit of news from inside the basketball bunkers.
Cousins had an excellent workout with the Sacramento Kings, grading out as the best shooter to visit Sacramento in the predraft process. He hit 78 percent of his shots in the workout, including a lot of pick-and-pop attempts.

Favors graded out as the far better athlete, but the Kings, who have the No. 5 pick in the draft, believed Cousins was a more advanced player. He showed Sacramento officials more range than they thought he had, consistently hitting the 17-foot jumper. The Kings are considering several players, but Cousins could be difficult to pass over.

Sources say the Kings are also still open to trade possibilities, and Detroit and Utah are two teams eager to move up in the draft. The Pistons' Tayshaun Prince could be intriguing to the Kings, who are eager to add a veteran small forward to the roster.
Yea. I don't know about that whole Tayshaun Prince thing. So, I'm just going to pretend I didn't see that and stick my fingers in my ears while I shout obscenities loudly.
The Bee's Ailene Voisin also weighed in on the Cousins workout:
As for that big body and the tendency to get too big? None of that is fiction. The man is huge.

Yet except for an unacceptably high body-fat percentage (16.4) and a soft spot around the middle that was apparent when he obliged and lifted his jersey, Cousins is hardly a blimp.

At 6-foot-11 and 290 pounds, he has long, thick arms and immense hands. Much of his length is in his torso, and though he's not known for leaping ability, his strong core and wide hips enable him to establish inside position and control the boards.

"He's got the size to play center," Petrie noted. "He's got a natural position, maybe two."
If you can excuse the pornographic detailing of Cousins in that piece, you'll come to the conclusion that he's not as fat (but he is PHAT with a P, amirite!?!?!? HOLLLA) as some pundits want you to believe.
All in all, the workout seemed to go just about as good as it could have for Cousins – a good thing for he and the Kings, so it seems.
P.S. – There seems to be a lot of fucking posts about DeMarcus Cousins here lately. Thus, I'm renaming this blog DeMarcus Cousins & Sacramento Kings 4ever!!1!1! <3 <3