Highs and Lows: Sacramento Kings Get Rattled in Houston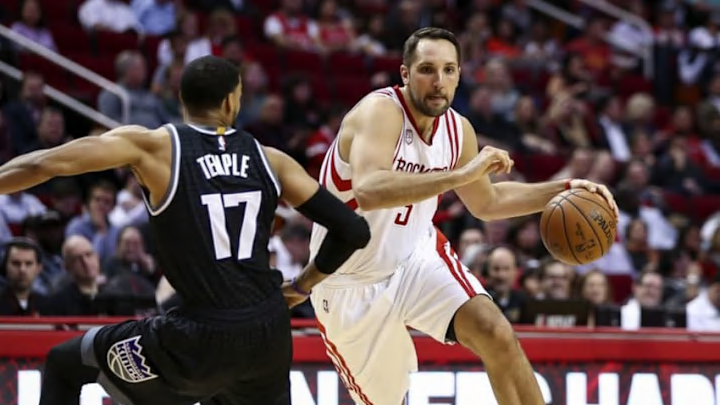 Dec 14, 2016; Houston, TX, USA; Houston Rockets forward Ryan Anderson (3) dribbles the ball as Sacramento Kings guard Garrett Temple (17) defends during the second quarter at Toyota Center. Mandatory Credit: Troy Taormina-USA TODAY Sports /
The Sacramento Kings lost big to the Houston Rockets tonight by a score of 132-98. Listed down below are the highs and lows that happened in tonight's contest that pertain to the Sacramento Kings.
Highs
Garrett Temple: Temple continues to be a contributor for Sacramento this season and was one of the few bright spots for the Kings in tonight's game. Temple finished the game scoring 20 points while shooting 7-13 from the floor and 5-9 from the perimeter. He also finished the match with 4 assists and did a solid job in defending James Harden for the night.
Rookie Play: Due to the blowout that the Rockets put on the Kings, it caused Dave Joerger to go deep into his bench and give players Malachi Richardson and Skal Labissiere some minutes of NBA action. Although both rookies didn't knock anyone's socks off, it was a benefit for the Kings to see how their rookies can fare at the NBA level. Richardson finished the game scoring 7 points and Labissiere with 2 points.
Free Throw Shooting: The Kings have struggled in making shots from the charity stripe in recent games, but tonight they showed some improvement. The Kings only put up 11 attempts from the free throw line tonight, but the team as a collective whole was able to record a free throw percentage of 81.8 for the game.
Lows
Slow Start: When the Rockets have led after the first quarter this season, they are pretty much undefeated (record of 14-1). To start the game, Houston came straight out of the gate by outscoring Sacramento 36-25 after the first quarter. The first quarter relly set the tempo for the Rockets going forward, as they made sure Sacramento had no chance of rallying back and being competitive for the rest of the game.
Darren Collison: Sacramento entered tonight's game without the services of DeMarcus Cousins and Rudy Gay, the Kings' top two scorers for the seasons. It was expected that Darren Collision would carry on a chunk of the offensive load for tonight, but the starting point guard for the Kings struggled as he recorded just 7 points while shooting 2-10 from the floor.
Defending The Three: If the Kings could stop the Rockets from making threes, they could have had a shot to win tonight's contest. Instead, the Rockets were on their A-game when shooting beyond on the perimeter as they made 22 of their 42 shots attempted. The Rockets rely on the three-point shot for their offense to flourish, and fortunately for them, they gave the Kings everything they had.