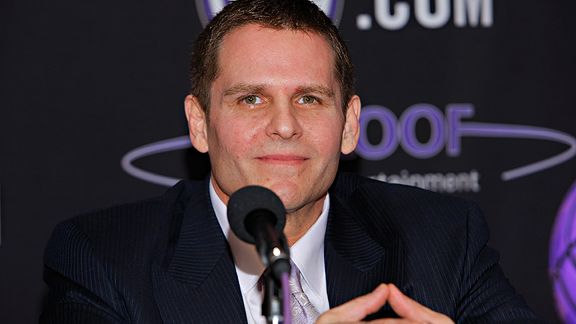 After the city of Sacramento sent a cease and desist letter to the city of Anaheim yesterday, Joe Maloof finally broke his overwhelming silence – and of course, shockingly, made himself look silly in the process calling the move a "low blow"…
"It's not for the mayor or anybody (in the City of Sacramento) to interfere with our business. That's what I think they're doing, and it's not right," Maloof told The Orange County Register. "We would appreciate that they not interfere with our business."
"That letter is completely wrong, and it was uncalled for – below the belt – and it's a shame it had to come out of his office," Maloof said. "We tried to be classy and not get in arguments in the media, but I (have to) make this comment.
"You better be careful; don't mess around and interfere with our business," he said. "That's all we ask. Whatever (remedies) we have, we're going to use. We're dead-serious about this, because it's an awful letter. It should never have been sent, (because) it gives the wrong impression."
Oh! Well shucks, Joe – I didn't know you were the authority on all things considered low blows. You know, I might not have a failing multi-million dollar empire, but I do know about being disrespected and how it feels – and for that, we as fans have you and your family to thank.
I've maintained from day one that I'm not angry at the Kings for possibly relocating – I understand it, even if I don't particularly care for it. I however do find issue with the way the Maloofs have treated the fans of the greater Sacramento and Central Valley area's – especially after the undying support the Maloofs were given throughout most of their time in Sacramento.
The fact that this silly and almost awkward letter to the city of Anaheim made you finally break your silence, is, just – no words. Really? This? Of all things? The fact that you're potentially moving the only professional sport franchise in Sacramento IS the city's business and the strong rumors of your family defaulting on the lease IS the city's business. The fact that the city will have over 1,000 new unemployed residents IS the city's business. The fact that the city will not have that extra seven million dollars in worker salary in the local economy IS the city's business. You, of all people, a businessman so we're told, should know that.
Has the city failed you in attempts to get an arena? Without a doubt. But when's the last time that a city across the United States welcomed a new arena/field with open arms? It's just not something that happens – it's a fight. Always has been, always will be. Look at your neighboors to the West – how many years have the 49ers fought for a new stadium? How about the Giants, who had one foot in Tampa before a last second deal?
Listen Joe – I'm not mad at you for moving, if that is indeed what you do. After all, this is a business. And I will still support the franchise. But, the way this situation has been handled is atrocious. I guess that's because I expected more from you all – I thought you could be honest, I thought you could be open, I thought you could be real to your fans and employees. I thought a lot of things. Never did I think this, though.
Tags: Relocation