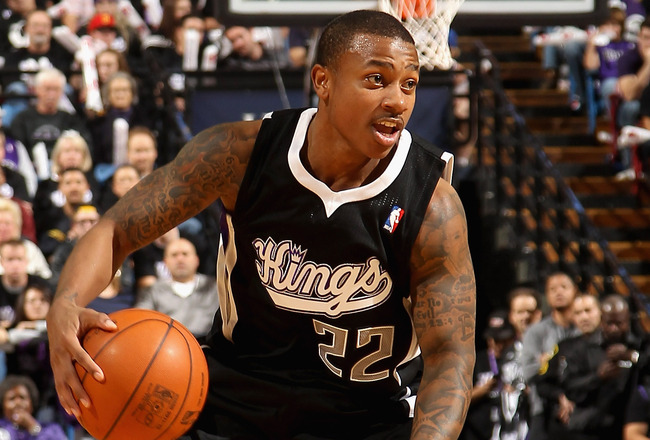 What a thrilling game! For 24 minutes, it looked like the Kings road woes had followed them home. But with a few lineup tweaks and renewed commitment to the defensive end, Sacramento completely flipped the script on the Pacers. How do you overcome unbearably bad shooting (30.1% FG, 68.3% FT)? By playing balls out, clamping down on defense and fighting for every loose ball. It was a formula the Kings rode to an exciting 92-88 win.
THE POWER OF ISAIAH – Sometimes there are moves that seem so obvious to the common fan, but the coach doesn't seem to subscribe to the same thought. After sitting Isaiah Thomas for the whole game in Minnesota and the entire first half against Indiana, Keith Smart finally had an epiphany. Thomas is a difference maker. His energy, offensive leadership and on-ball defense is unmatched on the roster, and it's time Smart recognizes this fact. Jimmer Fredette may be the future, but he's not ready right now. John Salmons is a stick in the mud. Thomas needs to be the third guard in the rotation, and he should play frequently alongside Tyreke Evans (8 PTS, 3-14 FG, 7 REB, 6 AST) and Marcus Thornton (5-17 FG, 17 PTS, 4 REB, 3 AST) as he did to close out Wednesday's game. Thomas (20 MIN, 8 PTS, 6-8 FT, 2 STL, 1 AST, 1 REB) did it all against Indy: breaking down defenses, soaring for rebounds, finishing fast breaks, pushing the tempo. Truly fun to watch.
KINGS LATE GAME LINEUP – The Kings final five against the Pacers was a magnificent bunch. Francisco Garcia (29 MIN, 16 PTS, 8-10 FT, 5 REB, 2 STL) and DeMarcus Cousins joined Thomas, Evans and Thornton as the Kings employed some zone defense to make up for a lack of size. The five on the floor busted their butts, making tremendous rotations on defense to pester Pacers shooters. And Boogie (13 PTS, 5-14 FG, 19 REB) made sure the small lineup wasn't crushed on the boards, as he gobbled up rebound after rebound, often taking on three Pacers in the process. Sacramento held Indiana to just eight points in the fourth quarter, which is a great way to win when you cannot knock down shots.
POWER FORWARD SHUFFLE – Keith Smart promised lineup changes, then he backtracked, and then he decided to make a change. JJ Hickson, despite his consistent energy, was the sacrificial lamb, giving way to Jason Thompson, who earned the promotion. Thompson (9 PTS, 10 REB, 2 STL) and Hickson (6 PTS, 5 REB) complemented each other nicely in the first half before both gave way to a smaller lineup for much of the second half. In 36 combined minutes, the pair scored 15 points and ripped 15 boards. It'll likely be a change that will stick for the near future.
OTHER OBSERVATIONS – Love the energy of the bench cheering on the guys on the floor. That was always something I loved about the glory years; it shows the unity of the roster … Thornton had a rough shooting night, but still managed to score and he came up with some big plays, corraling loose balls and finishing at the rim … Smart worked Travis Outlaw (6 MIN, 5 PTS, 1 REB, 1 STL) into the lineup well during the fourth quarter. Outlaw's quick appearance included a key triple and some solid defense, but he got the hook after missing some open shots. Good move.