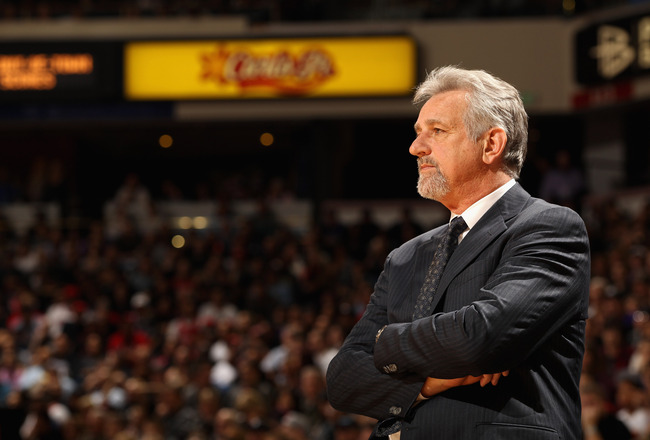 That's about as brutal a game as you're going to see. An absolute embarrassment. Shockingly, the Kings had the game tied at halftime before the bottom fell out. Guys were absolutely lost. The Grizzlies ran a layup line for most of the second half while the Kings fired away from downtown. The 107-90 loss puts the Kings at 2-4 and re-raises plenty of concerns.
WESTPHAL'S JOB SECURITY – While not a huge Westphal supporter, I think the guy is in an incredibly tough spot. He's given a roster — that maybe he helped create — with no true point guard, no post presence (sorry, DeMarcus is not there yet) and a handful of players (i.e. John Salmons) with a shoot-first mentality, and he's expected to run a smooth offense. Add that to a shortened training camp, which really cannot be ignored — no time to install a full system. And mix in the fact that guys are missing point blank layups and wide open shots. Those excuses aside, tonight was the first time I really wondered if it's time for a change. The guys are not showing any sense of gameplan and look totally lost. We don't play to our strengths: penetrate and kick, running shooters off screens, pick and roll. The DeMarcus saga shouldn't be the reason for his dismissal, but if the play doesn't improve, then it has to be strongly considered.
ROOKIES SHINE IN GARBAGE TIME – Gotta find something positive, and the play of Jimmer Fredette and Isaiah Thomas in garbage time was fun to watch, even though it was against the Grizzlies scrubs with the game out of reach. Thomas (16 MIN, 15 PTS, 5 REB, 3 AST) should play more; he's about the closest thing we have to a true floor general. He provides a variety of skills that we need: solid on-ball defending, and he always manages to get in the lane. On top of that, he's an above average shooter. Jimmer (17 PTS, 6-12 FG, 4-6 3FG) is also showing marked improvement on both ends. He's still no Gary Payton defensively, but he did a better job of staying in front of the quick Mike Conley and getting around screens. Offensively, his comfort level is growing. Both rooks sometimes get out of control, but that's expected.
OTHER OBSERVATIONS – Good to see Travis Outlaw (11 PTS, 4-7 FG) start knocking down some shots. He's certainly not afraid to let them fly … The second quarter wasn't too bad. The Kings clawed back from a 14-point deficit, thanks to some tighter defense … Cousins (22 MIN, 1-5 FG, 4 PTS) was a non-factor in his return to the team while J.J. Hickson (12 PTS, 10 REB) excelled in a starting role. Probably safe to assume that lineup stays for tomorrow … Tyreke and Marcus Thornton never got on track and should be well rested for tomorrow's game in Denver.