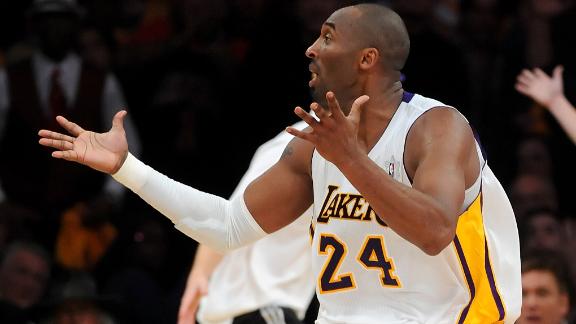 How fun was that!?! Packed house, amped crowd, hated rival…it was the perfect equation for an exciting opening night. And the Kings, full of youth and energy, outlasted the Lakers for a 100-91 victory that featured contributions from nearly everyone on the roster.
CHUCK RUBS OFF ON EVERYONE - When Chuck Hayes was named captain, it was a fitting cap to a tough week for the new Kings big man. Coach Westphal said it best in the postgame presser: Chuck (7 PTS, 9 REB, 3 AST, 3 BLK) is our glue guy. Constant hustle. Tough, hard-nosed defense on Pau Gasol. It was clear his presence rubbed off on his teammates, who upped their effort, especially defensively and on the boards. That's why he's captain.
TEAM CHEMISTRY AND DEPTH - As the Kings accumulated players over the offseason, we knew we'd have some depth. And it's pretty clear the team has developed a great rapport with each other, very important on a young team. Against the Lakers, Westphal showed no hesitation to play nearly everyone on the roster and each played a role in the win. Isaiah Thomas (13 MIN, 5 PTS, 2 REB, 2 AST) contributed energy and knocked down a shot. JJ Hickson (21 MIN, 5 REB) had a great hustle play on a full-court loose ball and fought for rebounds. Travis Outlaw tied for the team lead with a +11 and had one nice finish in the lane. The Kings depth will be clutch in this shortened season.
TYREKE LOOKIN' SMOOTH - It is so clear how much Tyreke Evans' injury affected him last season. He's back to making strong drives and his jump shot against the Lakers looked as smooth as it ever has. Perhaps most important, Evans (20 PTS, 3 AST, 2 REB) had zero turnovers despite being hounded by Kobe, Fisher and World Peace.
OTHER OBSERVATIONS - Another game, another clutch Marcus Thornton (27 PTS, 9-13 FG, 4-7 3FG, 5 REB, 3 AST) performance. No big deal. Guy just delivers whenever needed … John Salmons (13 PTS, 5-14 FG) is who we thought he was: a little too trigger happy but great defense. His work against Kobe was key in victory … DeMarcus Cousins got in foul trouble but he was a monster on the glass (11 REB, 6 Offensive) and drew a clutch late charge against Kobe … Remember when we actually liked Matt Barnes? Yeah, me neither.