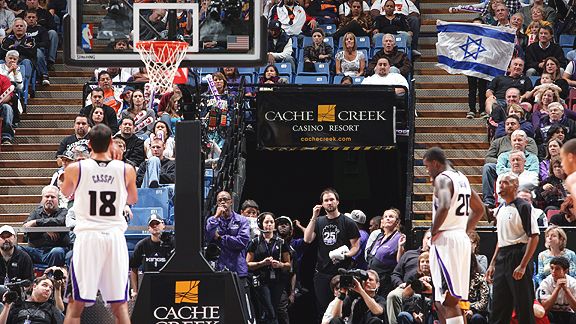 If there was a Darwin award for blog posts, Omri's might be running towards the front.
After some unspectacular play, Omri has found himself lodged on the Kings bench as of late (and more importantly, during their improved play) and he's obviously become quite irritated about it.
Casspi took to his blog this morning and dropped a few gems, most notably:
Coach told me a few games ago that he is exploring other options for next season, so as you can tell, I am not really sure of his plans. I know there are a lot of teams, including some strong playoff contenders, who are interested in me for next year and going forward. I hope I find myself on a team who will appreciate my ability as an athlete and as a human being, and get to play on a squad with a "team first" mentality.

I still don't know if I will stay a Sacramento King beyond this season. I am a player under contract, I really love the fans, the city, the owner and the General-Manager. Things just don't seem to be going well. Don't get me wrong; Sacramento is the team that gave me the opportunity to play in the NBA,and it would be selfish of me to say I want to leave, but I am sure that I'm good enough to play, whether it's for the Kings organization or for another team.
I've seen a lot of dumb comments by NBA players over the years, but this one is up there.
First off, Omri, you're under contract for three more years, assuming the Kings want it that way. Not only that, you're on the contract for cheap. So while you might get traded at some point, your desire to possibly play elsewhere is going to take some cooperation from somebody other than yourself.
Secondly, and most importantly – and this might be a tough one, so, you may need to sit down for it – play better. Oh my Jesus in a cowbell. The horror. The thought. You've got one important job on this team – hit open shots. That's all. You're not asked much. Tyreke and Marcus will score. Sam, Jason, and DeMarcus will handle the paint. Your only floor competition is Donte Greene, more or less. If you can't beat him out of a job, well – that's not our fault. Defend your player – hit open shots. Basketball, 101.
I know it's a crazy thought, but, when you do those things – you get floor time. Shocking.
H/T to STR
Tags: Omri Casspi