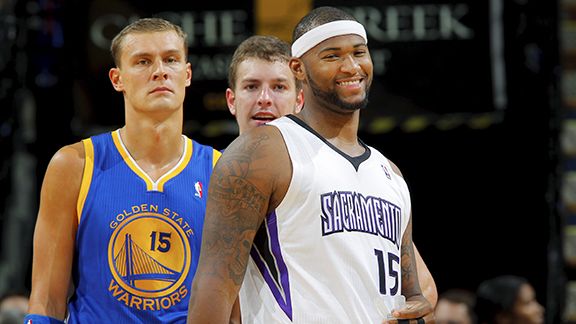 I like DeMarcus. I like him a lot. Personally, give him about three more years in this league and he'll be an absolute force assuming he continues to mature and grow as a person. But last night reflected poorly on him and the team.
For those that missed it, as the Warriors attempted to chip away at the Kings late in the fourth at the foul line, Cousins made several choke gestures – placing his hand around his neck as the Warriors struggled at the line. Ironically, it was Cousins inability to grab a game ending rebound that gave the Warriors the ability to tie the game.
I'm a bit torn on this whole situation. I love the passion. The fire. The reckless stupidity of attempting to get inside an opponents head. There is no doubt Cousins will be the player you love to have on your team, but hate if you're an opposing fan. But, you have to wonder if Cousins could have went about it in a much more clever way. I'll never forgot watching Karl Malone go to the foul line versus the Bulls in the 1997 NBA Finals, late in the game, and Scottie Pippen famously walked by him and quietly mentioned that "the mailman doesn't deliver on Sunday". He missed both. The Bulls won by two.
There wasn't any word on if the benching was simply a single game or permamant, but considering Cousins play lately, it's hard to think it will be for more than a game as he routinely has been one of the best Kings on the court in recent weeks, which isn't saying that much. Samuel Dalembert will start in his place Thursday night.
In other news, Carl Landry will once again play musical chairs in the starting lineup and start alongside Dalembert versus the Bucks. With Jason Thompson still out with injury, you'd assume that Landry's starting spot will be short lived, but, you never know with Westphal and his merry aids.
Tags: DeMarcus Cousins