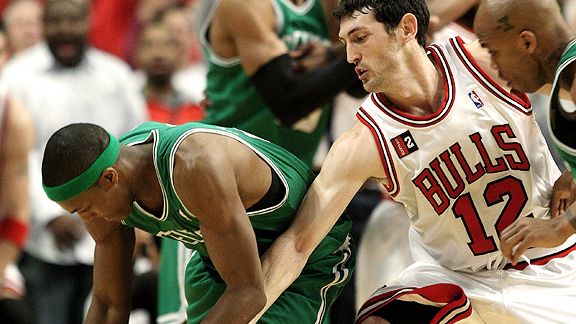 Although rumors are surfacing that the Washington Wizards and Chicago Bulls have a good faith deal in place for Hinrich, ESPN is reporting that the Kings are also in talks with the Bulls about trading for Hinrich and possibly the 17th pick in the NBA draft.
According to ESPN:
Since it's a good-faith deal for the time being, there remains a chance it could fall apart. But according to one source, the Sacramento Kings are prepared to make a similar deal with the Bulls in the Wizards' stead if that were to happen.
More on this as it develops.
It would be my best guess that the Kings would simply eat some of their cap space in the deal with Chicago wanting as little to no salary in return, allowing them to sign two max free agent deals. A future 1st round pick would be my assumption as a return for the Bulls.
Update: Sam Amick says:
A league source tells FanHouse the Kings have no interest in the Hinrich/No. 17 deal, and that it's likely Chicago smokescreen 4 leverage.
Tags: Draft Kirk Hinrich NBA Rumors