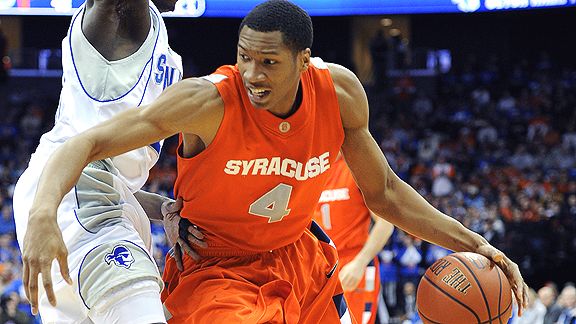 Anything rumor wise coming out right now has to be taken with a grain of salt, actually, more like a salt field to be specific. But with that said, it's being reported by Draft Express' Jonathan Givony and Yahoo's Adrian Wojnarowski (who knows the Nets as good as anybody) that the Nets will select (probably in Wojnarowski's mind) Syracuse's Wesley Johnson with the third pick and not Derrick Favors or DeMarcus Cousins as widely expected. Givony even goes as far to say that the Nets will just sign a power forward via free agency and they've decided on Johnson as their pick.
This potential move will send shock waves through the draft if it does go down. Johnson wasn't expected to go until the fourth pick to the Minnesota Timberwolves, and who knows if that was nothing but smoke screens or truth with David Kahn steering Minnesota's ship. But if Johnson is no longer available with the fourth pick, that will leave either Cousins or Favors for the Kings assuming Wall and Turner go first and second.
If the Nets feel they can sway Amare Stoudemire or Chris Bosh to New Jersey, taking Johnson is the smart decision. They've got the money – an All-Star big man and a solid rookie small forward thrown onto that team and they're instantly relevant in the Eastern Conference.
And for what it's worth, Draft Express has the Kings passing on DeMarcus Cousins and selecting Greg Monroe with Derrick Favors going to Minnesota at #4.
I'll be passing out razor's come Thursday night. First 2,000 only though.
Update: Pinocchio Chad Ford has jumped on the bandwagon now.
Update #2: One time Sacramento Kings beat writer and current Fanhouse writer Sam Amick is questioning these reports and says it's New Jersey trying to force Minnesota to trade up. He says he's been told New Jersey's top three all along are Evan Turner, Derrick Favors, and DeMarcus Cousins.
Tags: Amare Stoudemire Carlos Boozer DeMarcus Cousins Draft Greg Monroe Rumors Wesley Johnson