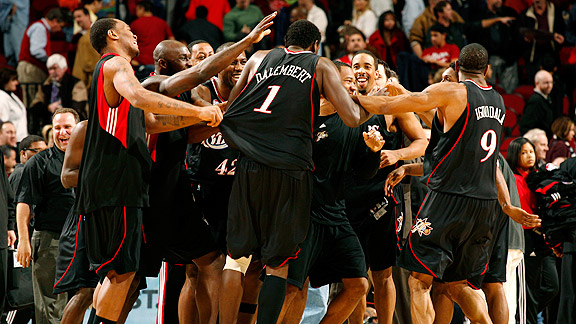 Hell to the muthaflockin yes!
Hawes, still only 22 (just turned), still has "potential" but that's such a dirty, nasty, filthy word. Sorta like the local stripper named "Candy". It sure sounds good, but, why does she have all of those cold sores on her lip?
The Kings are able to rid themselves of crybaby "they keep misquoting me" Nocioni, improve their front court with that little thing they call "defense" (it's this thing where, well, I don't remember it either…but I hear it's fantastic), and they improve the cap situation for next season – another prime FA spending spree AFTER the new CBA kicks in. Tom Ziller of Sactown Royalty breaks it down here, but as to the specifics:
Hawes makes $2.9 million this season, and then he's a restricted free agent with a $4 million qualifying offer. Nocioni makes $6.8 million this year and $6.6 million 2011-12. Dalembert makes $14.8 million this season (thanks to a 15% trade kicker), and then he's a free agent. So the Kings take on an extra $5.1 million in 2010-11 in order to save $6.6 million in the 2011-12 season. The Kings are now projected to have about $15 million in cap space for this summer.
Really, the Kings couldn't have asked for much more than this. They accomplished so much in one move – an excellent trade by Geoff Petrie, and I'm far from a Petrie slobber.
Accomplished:
Get a defensive big man. Check.
Get an expiring contract. Check.
Get a large expiring contract. Check.
Get rid of Nocioni some fucking way. Check.
Clear out a spot for a potential big man in the draft, be it Cousins, Monroe, whomever. Check.
Make me stop screaming at the TV calling Spencer Hawes names only reserved for a part of the female anatomy. CHECK.
I can't see much fault with this trade, unless you felt Spencer Hawes was going to become some uber-player. And if did, I'd like to invite you to play Fantasy Basketball with me this upcoming season. I like winning.
Time to go set some fires and flip some cars. Or cowtip or somethin- amirite?!?! Is this where I yell yee-haw?
Edit: I've updated the Salaries page which you can find by clicking here. Or here. Or even here. But not here. Oh boy I'm a trickster.
What are your thoughts on the trade?
Loading ...
Here are Geoff Petrie's comments:
"We're excited about the acquisition of Samuel Dalembert. He will certainly bring a defensive presence and increase our ability to defend around the basket with his rebounding, shot-blocking and athleticism. I think he'll add a very different look to our team defensively and we're really excited about having him. I also want to thank Spencer and Andres for their contributions here and wish them well with Philadelphia. It's been an enjoyable time with both of them."
Tags: Andres Nocioni Geoff Petrie Rumors Samuel Dalembert Spencer Hawes